If you are expecting a hotel pickup:
For a smooth pickup experience, we highly recommend waiting in the lobby of your hotel. It is essential to inform your hotel receptionist about your scheduled pickup in advance. This way, they can assist you by directing you to the driver or offering support if you encounter any difficulties in locating them. The receptionist can also directly contact the operator on your behalf if needed. You can find the operator's phone number in your confirmation email


If you are awaiting a pickup from a station:
If you are anticipating a pickup from a bus or train station, we recommend referring to your confirmation email for the specific address of your pickup point. Additionally, please note that the operator may provide additional instructions or notes regarding the pickup, which will be clearly stated in the confirmation email.
For added convenience, you can click the "Get directions" option available in your confirmation email, to open a maps application on your phone, allowing you to navigate to the pickup location with ease.


An example of how the information is displayed in the confirmation email.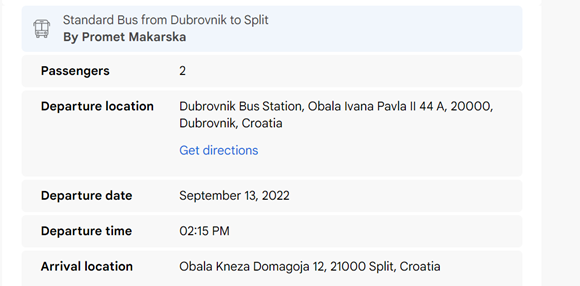 If you require any assistance on the day of your pickup, we are here to help. Please don't hesitate to reach out to us through live chat on the website or via Facebook Messenger.